January somehow managed to fly by quickly and also feel like the longest month ever, and I managed to read 12 books this month which is a great start to 2020! I also had a good month in terms of what I read, lowest was a 3 star read and those I still enjoyed, which is always nice. So, let's talk about my first reads of 2020!
1. The Book Thief by Marcus Zusak (5 Stars)
Goodreads Summary: It is 1939. Nazi Germany. The country is holding its breath. Death has never been busier, and will be busier still.
By her brother's graveside, Liesel's life is changed when she picks up a single object, partially hidden in the snow. It is The Gravedigger's Handbook, left behind there by accident, and it is her first act of book thievery. So begins a love affair with books and words, as Liesel, with the help of her accordian-playing foster father, learns to read. Soon she is stealing books from Nazi book-burnings, the mayor's wife's library, wherever there are books to be found.
But these are dangerous times. When Liesel's foster family hides a Jew in their basement, Liesel's world is both opened up, and closed down.
In superbly crafted writing that burns with intensity, award-winning author Markus Zusak has given us one of the most enduring stories of our time. 
My first read of 2020 was a reread for me, and that was The Book Thief by Marcus Zusak. This seemed to affect me much more on second reading, so much so I actually bumped my 4 star rating from 7 years ago up to a 5 star rating. I loved the writing style of this book, it's choppy and disjointed but it fits the chaos of the story really well. The characters are well developed and I love the snippets of backstory we got throughout the story. This book is incredibly emotional and definitely hit me harder this time around, I sobbed throughout the last 50 or so pages and it was definitely worth the reread.
2. The Ten Thousand Doors of January by Alix E Harrow (3.5 Stars)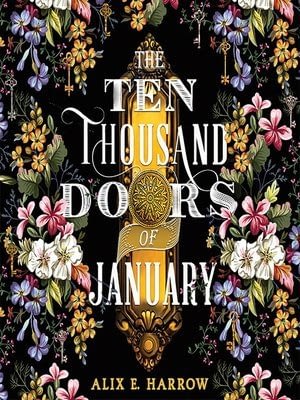 Goodreads Summary: In the early 1900s, a young woman embarks on a fantastical journey of self-discovery after finding a mysterious book in this captivating and lyrical debut.
In a sprawling mansion filled with peculiar treasures, January Scaller is a curiosity herself. As the ward of the wealthy Mr. Locke, she feels little different from the artifacts that decorate the halls: carefully maintained, largely ignored, and utterly out of place.
Then she finds a strange book. A book that carries the scent of other worlds, and tells a tale of secret doors, of love, adventure and danger. Each page turn reveals impossible truths about the world and January discovers a story increasingly entwined with her own.
Me and magical realism have a very difficult relationship, it isn't a genre I usually reach for because 9 times out of 10, I just don't mix with it, however, I picked this one up (it had nothing to do with the cover at all…) and I actually enjoyed it for the most part. The strongest part of this story was by far the plot, there were so many twists and turns that kept me guessing throughout. I wasn't 100% sold on the story within the story aspect, mainly because I thought it was incredibly predictable and I couldn't work out if that was intentional or not. I loved the social commentary that this book made and most of the characters, especially Locke, I thought he was really interesting, but the romance was really lacklustre and felt completely unnecessary.
3. Eight Will Fall by Sarah Harian (3 Stars)
Goodreads Summary: In a land where magic is outlawed, eight criminals led by seventeen-year-old Larkin are sent on a mission to kill an ancient evil that plagues their kingdom. Descending into an underground realm full of unspeakable horrors, Larkin and her party must use their forbidden magic to survive what lies in wait, teeth sharp and jaws deadly.
As she fights for her life, Larkin finds a light in Amias, a fellow outlaw with a notorious past. Soon Larkin and Amias realize their fates are entwined. The eight of them were chosen for a reason.
But as the dangers multiply and her band of felons are picked off one by one, Larkin must confront a terrible truth: They were never meant to return.
This book came in a Fairyloot box and definitely probably wouldn't be something I would usually pick up however I ended up enjoying it much more than I thought I would. I think the characters were the stand out for me, I really liked that it was a group of very different people forced together on a journey, I love those kinds of situations and I love watching the characters go from tension to friendship.The plot was actually less predictable than I thought, there was definitely some parts that were predictable but there were also a fair amount of plot twists that I didn't see coming which I thought really added to the stakes of the novel. The pacing was a little off for me, it was slow in places and then it would speed up, slow back down again and I felt like the ending was a little rushed.
4. Infinity Son by Adam Silvera (3 Stars)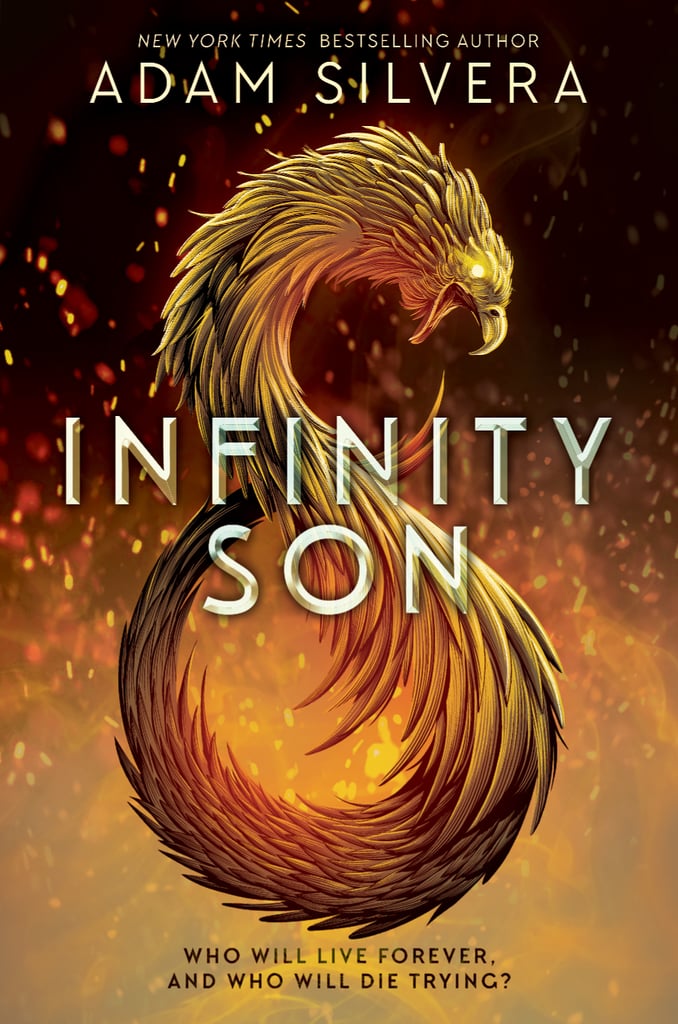 Goodreads Summary: Growing up in New York, brothers Emil and Brighton always idolized the Spell Walkers—a vigilante group sworn to rid the world of specters. While the Spell Walkers and other celestials are born with powers, specters take them, violently stealing the essence of endangered magical creatures.
Brighton wishes he had a power so he could join the fray. Emil just wants the fighting to stop. The cycle of violence has taken a toll, making it harder for anyone with a power to live peacefully and openly. In this climate of fear, a gang of specters has been growing bolder by the day.
Then, in a brawl after a protest, Emil manifests a power of his own—one that puts him right at the heart of the conflict and sets him up to be the heroic Spell Walker Brighton always wanted to be.
Brotherhood, love, and loyalty will be put to the test, and no one will escape the fight unscathed.
As I said in my Goodreads review this book was a complete clusterfuck, but I still somehow enjoyed it? There were parts that were a complete mess, but the plot kept me hooked and I couldn't stop reading it. Some of the characters were super interesting and I can't wait to see where the characters go in the next book. I am hoping to get a full review up for this book soon so look out for that!
5. The Prince and the Dressmaker by Jen Wang (4 Stars)
Goodreads Summary: Paris, at the dawn of the modern age:
Prince Sebastian is looking for a bride―or rather, his parents are looking for one for him. Sebastian is too busy hiding his secret life from everyone. At night he puts on daring dresses and takes Paris by storm as the fabulous Lady Crystallia―the hottest fashion icon in the world capital of fashion!
Sebastian's secret weapon (and best friend) is the brilliant dressmaker Frances―one of only two people who know the truth: sometimes this boy wears dresses. But Frances dreams of greatness, and being someone's secret weapon means being a secret. Forever. How long can Frances defer her dreams to protect a friend? Jen Wang weaves an exuberantly romantic tale of identity, young love, art, and family. A fairy tale for any age, The Prince and the Dressmaker will steal your heart.
This was such an adorable graphic novel! I'm still getting into graphic novels but I have been having a lot of luck with them. The representation was great, the characters and the relationships were so fluffy and heartwarming. I had tears in my eyes at my ending, I didn't see some parts of it coming and it was such a beautiful story.
6. Call It What You Want by Brigid Kemmerer (5 Stars)
Goodreads Summary: When his dad is caught embezzling funds from half the town, Rob goes from popular lacrosse player to social pariah. Even worse, his father's failed suicide attempt leaves Rob and his mother responsible for his care.
Everyone thinks of Maegan as a typical overachiever, but she has a secret of her own after the pressure got to her last year. And when her sister comes home from college pregnant, keeping it from her parents might be more than she can handle.
When Rob and Maegan are paired together for a calculus project, they're both reluctant to let anyone through the walls they've built. But when Maegan learns of Rob's plan to fix the damage caused by his father, it could ruin more than their fragile new friendship…
This captivating, heartfelt novel asks the question: Is it okay to do something wrong for the right reasons?
I absolutely loved this book. It was the first of Brigid Kemmerer's YA contemporaries that I have read and it definitely won't be the last. It was definitely a more hard hitting contemporary but with some lighter fluffier moments thrown in. I started and finished this in one day because I was so gripped by the story and the characters. I love contemporary stories where the stakes are slightly higher and there's more roadblocks to their romance than just miscommunication.
7. The Chaos of Standing Still by Jessica Brody (4 Stars)
Goodreads Summary: Ryn has one unread text message on her phone. And it's been there for almost a year.
She hasn't tried to read it. She can't. She won't. Because that one message is the last thing her best friend ever said to her before she died.
But as Ryn finds herself trapped in the Denver International Airport on New Year's Eve thanks to a never-ending blizzard on the one-year anniversary of her best friend's death, fate literally runs into her.
And his name is Xander.
When the two accidentally swap phones, Ryn and Xander are thrust into the chaos of an unforgettable all-night adventure, filled with charming and mysterious strangers, a secret New Year's Eve bash, and a possible Illuminati conspiracy hidden within the Denver airport. But as the bizarre night continues, all Ryn can think about is that one unread text message. It follows her wherever she goes, because Ryn can't get her brialliantly wild and free-spirited best friend out of her head.
Ryn can't move on.
But tonight, for the first time ever, she's trying. And maybe that's a start.
This was a wonderful YA contemporary, set over 24 hours (something that I always forget that I love until I read). We follow our main character who's stuck in airport following a storm, and still grieving the loss of her best friend. I think the way this book dealt with the topic of grief was really well done, I really felt for Ryn, the way she was dealing with things wasn't healthy but I really thought she grew throughout the novel. There were parts where I had tears in my eyes because it was so heartbreaking watching her relive the death of her friend, but it still had some light hearted moments and moments where I was laughing out loud, and a really adorable romance too!
8. The Paper & Hearts Society by Lucy Powrie 
Goodreads Summary: Tabby Brown is tired of trying to fit in. She doesn't want to go to parties – in fact, she would much rather snuggle up on the sofa with her favourite book.
It's like she hasn't found her people …
Then Tabby joins a club that promises to celebrate books. What could go wrong? EVERYTHING – especially when making new friends brings out an AWKWARD BUZZING feeling all over her body.
But Olivia, Cassie, Henry and Ed have something that makes Tabby come back. Maybe it's the Austen-themed fancy-dress parties, or Ed's fluffy cat Mrs Simpkins, or could it be Henry himself …
Can Tabby let her weird out AND live THE BEST BOOKISH LIFE POSSIBLE?
I absolutely adored the backdrop of the book club in this book, and it really reminded me of everything that I love about reading, and it was nice to see characters getting as equally as excited about books and having as much self control as I do when buying books (ie none whatsoever). The friendship that built between our 5 main characters was the core focus of the story and I really loved how their relationship developed. I think we can all relate to our main character Tabby when joining a group of friends that already have a solid friendship but I really loved how the author dealt with that. There was a little romance in this book which I thought was so cute, but didn't take over the whole plot as many YA contemporaries do which I appreciated. The bullying storyline was so well done, and brought home the harsh realities of social media and how it can be used in so many damaging ways. The relationship our main character had with her gran was so lovely and really nice to see.
9. Children of Blood and Bone by Tomi Adeyemi (5 Stars)
Goodreads Summary: They killed my mother.
They took our magic.
They tried to bury us.
Now we rise.
Zélie Adebola remembers when the soil of Orïsha hummed with magic. Burners ignited flames, Tiders beckoned waves, and Zélie's Reaper mother summoned forth souls.
But everything changed the night magic disappeared. Under the orders of a ruthless king, maji were killed, leaving Zélie without a mother and her people without hope.
Now Zélie has one chance to bring back magic and strike against the monarchy. With the help of a rogue princess, Zélie must outwit and outrun the crown prince, who is hell-bent on eradicating magic for good.
Danger lurks in Orïsha, where snow leoponaires prowl and vengeful spirits wait in the waters. Yet the greatest danger may be Zélie herself as she struggles to control her powers and her growing feelings for an enemy.
This was a reread for me and I'm happy to say that I loved it just as much the second time around. You can find my full review for this book here.
10. Roam by C H Armstrong (3.5 Stars)
Goodreads Summary: Seventeen year-old Abby Lunde and her family are living on the streets. They had a normal life back in Omaha, but thanks to her mother's awful mistake, they had to leave what little they had behind for a new start in Rochester. Abby tries to be an average teenager—fitting into school, buoyed by dreams of a boyfriend, college, and a career in music. But Minnesota winters are unforgiving, and so are many teenagers.
Her stepdad promises to put a roof over their heads, but times are tough for everyone and Abby is doing everything she can to keep her shameful secret from her new friends. The divide between rich and poor in high school is painfully obvious, and the stress of never knowing where they're sleeping or where they'll find their next meal is taking its toll on the whole family.
As secrets are exposed and the hope for a home fades, Abby knows she must trust those around her to help. But will her friends let her down the same way they did back home, or will they rise to the challenge to help them find a normal life?
Roam was another one of my book clubs picks and it was one we all had the same opinion on; the story was enjoyable, but we wanted more from the homeless situation and the realities of that, and less of the romance. Although the conversations and hardships around homelessness that were discussed were very interesting, there was too little of it for my liking. The romance was very instalove and friendships felt the same way, any conflict between the characters seemed to be over with in about 30 seconds and it felt very unrealistic. Overall, I felt like this book discussed some important issues but there was too much emphasis placed on other aspects of the story.
11. Aristotle and Dante Discover the Secrets of the Universe by Benjamin Alire Saenz (5 Stars)
Goodreads Summary: Aristotle is an angry teen with a brother in prison. Dante is a know-it-all who has an unusual way of looking at the world. When the two meet at the swimming pool, they seem to have nothing in common. But as the loners start spending time together, they discover that they share a special friendship—the kind that changes lives and lasts a lifetime. And it is through this friendship that Ari and Dante will learn the most important truths about themselves and the kind of people they want to be.
This was another reread for me, except this time I listened to the audiobook (it had nothing to do with Lin Manuel Miranda narrating it, I promise…) I loved this story just as much the second time around, it's definitely more of a character driven story rather than an expansive plot but I love it. One of my favourite things about listening to the audio book is how many jokes there are about nobody caring about Alexander Hamilton that had me chuckling away to myself. There's a sequel coming out this year I believe and I cannot wait to see more from these characters and watch their relationship develop.
12. Children of Virtue and Vengeance by Tomi Adeyemi (5 Stars)
Goodreads Summary: After battling the impossible, Zélie and Amari have finally succeeded in bringing magic back to the land of Orïsha. But the ritual was more powerful than they could've imagined, reigniting the powers of not only the maji, but of nobles with magic ancestry, too.
Now, Zélie struggles to unite the maji in an Orïsha where the enemy is just as powerful as they are. But when the monarchy and military unite to keep control of Orïsha, Zélie must fight to secure Amari's right to the throne and protect the new maji from the monarchy's wrath.
With civil war looming on the horizon, Zélie finds herself at a breaking point: she must discover a way to bring the kingdom together or watch as Orïsha tears itself apart.
The final book I read this month was Children of Virtue and Vengeance by Tomi Adeyemi which is the sequel to Children of Blood and Bone. I recently read Girls of Storm and Shadow which was a sequel and was so disappointed, luckily this book was everything a sequel should be. There was character development, world building, political intrigue and a really interesting plot. Look out for a full review of this one coming soon!
So there we have it, those are all of the books I read in January, let me know down in the comments which books you read this month, and which ones were your favourite. Until next time, happy reading!